Yoga + Aerobics Doubles Heart Benefits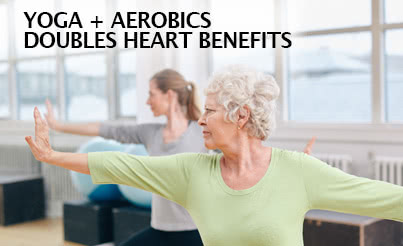 By Robert Preidt
A combination of yoga and aerobic exercise may benefit people with heart disease, according to a new study.
"Combined Indian yoga and aerobic exercise reduce mental, physical and vascular stress and can lead to decreased cardiovascular mortality and morbidity," said study authors Sonal Tanwar and Dr. Naresh Sen, from Hridaya Ganesha Sunil Memorial Superspeciality Hospital in Jaipur, India.
The study included 750 obese Indian heart disease patients with type 2 diabetes. They were divided into three groups. A group of 225 patients did aerobic exercise, a group of 240 did yoga, and the remaining 285 did both.
All three groups saw improvements in their heart disease risk factors after participating in three sessions of the activities lasting six months each.