Whole-Hearted Cardiac Care
The Cardiac Center is dedicated to total heart healthcare. It is a wonderful example of Joint Township District Memorial Hospital's commitment to serving the community by addressing its health needs with the best services and facilities at the lowest possible cost.
For your specific medical needs, please consult your physician before accessing the services of the Cardiac Center.
Committed to serving the needs of a wide variety of cardiac patients, Joint Township's Cardiac Center also offers a complement of non-invasive diagnostic tests as well as Cardiac and Pulmonary Rehab and a Wellness Center.
Diagnostic Testing Includes:
Transesophageal echocardiogram
Exercise stress testint
Nuclear stress testing
Echocardiogram
EKG
Event monitoring
Holter monitoring
Ambulatory blood pressure monitoring
Cardiac Rehab
Patients who have suffered a cardiac event will find reassurance in Joint Township Hospital's commitment to helping them get back on their feet, and on the right track to improve their cardiac health. JTDMH offers the Pritikin Intensive Cardiac Rehab program, which is a scientifically researched program that has proven results in decreasing bad cholesterol, inflammation, blood pressure, and weight and improving blood sugar levels.
This enhanced cardiac rehab program at JTDMH offers a unique lifestyle education program which includes medically-supervised exercise, nutrition education, cooking lessons, and behavioral skills workshops. Qualifying events for the program include: heart attack, coronary artery bypass surgery, angioplasty, stable angina (chest pain), heart or heart-lung transplants, heart valve repair or replacements, and chronic heart failure.
The team of dedicated cardiac care professionals will be by the patient's side throughout this entire program, providing guidance as one takes their health into their own hands. When patients put into practice the principles learned in this cardiac rehab program, it leads to a life that is much healthier and happier than before their cardiac event.

Pulmonary Rehab
Patients diagnosed with COPD, Chronic Bronchitis, Emphysema and Pulmonary Fibrosis may qualify and benefit from attending Pulmonary Rehab. A team of respiratory therapists, exercise physiologists, nurses and clinical dietitians develop an individualized plan for the patient to improve endurance, strength, and mobility which all aid in activities of daily living. Education is provided on medication and associated equipment/devices, nutrition plans, disease processes and breathing exercises. Quality of life can be enhanced for those participating in Pulmonary Rehab.
Grand Lake Wellness Center
In partnership with Vancrest Health Care Centers, The Grand Lake Wellness Center was opened in 2019.
Born out of our Cardiac Rehab program, and in existence for 20+ years, we wanted to provide an ongoing exercise program for our patients that have gone through Cardiac Rehab with efforts to keep them on a healthy track.
We have a professional staff of registered nurses and exercise physiologists who supervise all activities for safety purposes.This is especially comforting for those clients that have had some type of a cardiac event or other health risks.
The Wellness Center is approximately 7,000 square feet, bright and open, with a walking track surrounding the gym area, providing a year round safe and climate controlled environment for walkers.
Equipment includes treadmills, elliptical trainers, recumbent bikes, steppers, rowers and strength and training equipment.
Membership can be obtained by a physician referral, or a self-referral, but we do ask that you complete a health questionnaire to ensure that new members can safely exercise.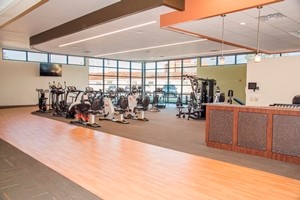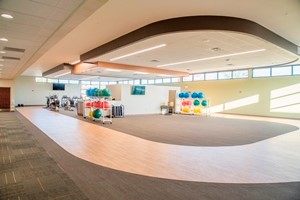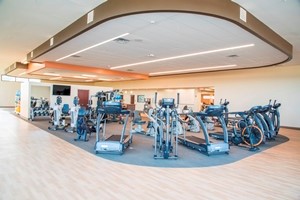 The Early Warning Signs
Not all heart attacks begin with a sudden, chestcrushing feeling. Most start with mild pain or discomfort. In fact, the symptoms are so deceptive that people assume they will go away and wait too long to get help. If you or someone you're with experiences any of these signs of a heart attack, call 9-1-1 right away, in five minutes or less:
Chest discomfort – feelings of uncomfortable pressure, squeezing, fullness or pain in the center of the chest that lasts more than a few minutes, or that goes away and comes back.
Upper body discomfort – pain or discomfort in one or both arms, back, neck, jaw or stomach.
Shortness of breath – with or without chest discomfort.
Other signs – breaking out in a cold sweat, nausea or light headedness.
COPD
COPD (chronic obstructive pulmonary disease) is often referred to as chronic bronchitis and/or emphysema and is a serious lung disease that gets worse over time. While COPD cannot be cured, it is treatable. This survey asks questions about you, your breathing, and what you are able to do. Once you complete the survey, share your results with your healthcare provider.