The Grand Experience — Exceeding Expectations
The Grand Experience is a customer service program that we developed for our associates to ensure that we consistently exceed the expectations of Grand Lake residents. Launched in 2009, The Grand Experience is helping us redefine what people expect from their healthcare providers by serving as a blueprint for creating high-quality, personalized experiences for our patients and their families. Everyone in our organization—including executives, physicians, clinicians, and support staff—undergoes in-depth formal training to learn the core elements of The Grand Experience and receives regular continuing education as our processes evolve with our patients' needs.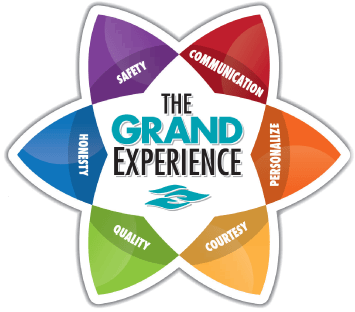 At the core of The Grand Experience is our belief that, in order to deliver truly personalized healthcare, we must first treat our patients as people; as unique individuals with their own special needs and expectations. By focusing our attention on the whole person instead of just symptoms and injuries, we increase patient satisfaction and raise the level of care we provide. And, by internalizing and implementing The Grand Experience values of communication, personalization, courtesy, quality, honesty, and safety, we are sure to do it for every person we serve, every time.
What It All Means
The Grand Experience consists of six central values that combine to create positive, personalized experiences for our patients and their families.

QUALITY
Quality is the sustainable exceeding of expectations. This means that we must delight the people we serve by consistently going above and beyond what is expected of us.
COMMUNICATION
We want our patients to be active participants in their care whenever possible and promise to tell them everything they need to know each step of the way. We believe that effective patient communication is a two-way dialogue that is always professional while remaining kind and compassionate.
PERSONALIZATION
We create personalized experiences for our patients and visitors by taking the time to show them the respect they deserve. We see them as people first and as patients and visitors second; focusing on their unique individual needs.
COURTESY
Courtesy is maintaining a cheerful and friendly attitude while remaining polite and professional. We are eager to provide assistance, and treat everyone with respect and dignity.
HONESTY
We expect all Grand Lake Health System associates to do what they say they will do, and to abide by the adage that honesty is always "the best policy." We want all of our patients and visitors to feel they can trust our Grand Lake team.
SAFETY
Maintaining a safe environment for our patients, visitors, and staff is the responsibility of all our team members. We encourage each of our employees to be aware of their surroundings at all times, to be prepared for whatever might happen in a given situation, and to be proactive in preventing unsafe situations. If the need arises, we expect our team to be responsive and cooperative.