Founded By The Community It Serves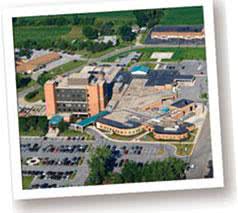 At the height of the Second World War, the local chapter of the American Legion saw the rising need for an area hospital in the Grand Lake Region. Soon after, a large-scale effort was started by community leaders to build and establish a medical center for the people of St. Mary's, Noble, German, and Jackson Townships.
Giving area residents a choice in quality medical care close to home, Joint Township District Memorial Hospital opened its doors on May 5, 1953. At the time, the one-story facility housed 50 beds and employed 30 staff members.
Today, the hospital has grown to include over 800+ medical professionals, 150 physicians, 12 affiliates and 10 Centers of Excellence, but its commitment to providing exceptional quality medical care continues.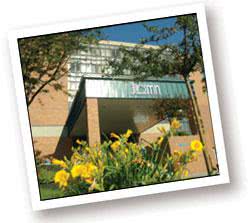 Prevention Through Education
Our deep commitment to the community does not end at our hospital and physicians' offices. Through a wide variety of sponsored outreach programs, it is the goal of Grand Lake Health System to promote good health and prevent illness. Available to all area residents – not just patients – these convenient classes and services help educate and inform. Below are some highlighted examples of these programs and services.
Running for nearly 20 years, Make Believe Hospital is a program that familiarizes young children with hospital procedures in a fun, relaxed way. This partnership with area schools sees over 1,000 visit annually.
Free to everyone and available 24 hours a day, Call A Nurse puts you directly in touch with a friendly registered nurse specially trained to answer your health questions and if needed, find a doctor.
Providing a variety of free general health screenings and access to testing for specific health problems, Health Fair is your traveling connection to Grand Lake Health System professional services.
The Rewards of Giving Back
Whenever and wherever possible, we believe in giving back to the community. The people of Grand Lake Health System commit their time and energy to countless non-profit organizations, charity events, and worthy causes in need. As we pledge our commitment to service, we invite you to join us and do what many area residents have already – become a volunteer or join our Auxiliary and one of its guilds. These dedicated workers play a vital role in the day-to-day operations and help in maintaining the level of quality care you deserve.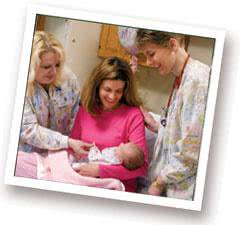 The Foundation
Charged with the responsibility of funding efforts for the entire health system, the JTD Hospital Foundation is a charitable non-profit organization that helps ensure the communities of Grand Lake Region receive the most reliable and affordable healthcare possible.
Spearheading past, present, and future efforts to improve and expand the Joint Township District Memorial Hospital, the Foundation is the vehicle for combined community support and funding. Its efforts have seen the completion of the Birthing Center, Emergency Room, Cardiac Center, and renovation of the hospital's Transitional Care Unit/Inpatient Rehab Unit on the sixth floor. The Foundation continues to support the new Women's Imaging Center and Hospice.
With Pride and Honor
As a person-first hospital, part of our responsibility is making sure you know that you can feel good about choosing us to take care of you and your family-to inspire your confidence. Recognition for quality and excellence from national ratings organizations like Healthgrades sets us apart from other hospitals and healthcare providers in the region and demonstrates our ongoing commitment to your health and well-being.
Our History and Future
1944 The community effort to establish a hospital for the Grand Lake Region is started by Emil Marx, Elry Hudson, Charles Nott, and H.E. Krauss.
1946 A Board of Trustees is formed to establish a Joint Township Hospital District
1951 The hospital breaks ground.
1953 The Joint Township District Memorial Hospital opens.
1959 First expansion; 25-bed wing added.
1962 X-Ray and Laboratory expansion
1974 $2.5 million expansion – From a 75 to a 119-bed facility; 3-story tower constructed; coronary care, new surgery, and recovery areas added; emergency, X-ray, physical therapy, and lab services expanded.
1979 Dietary area added
1983 Major expansion with 3 new floors added to patient tower
1985 Jim Chick named President and CEO
1988 Wapakoneta Medical Center opened
1989 JTDMH begins operation of the Celina Medical Center
1990 Transitional Care Unit opens
1990 JTD Hospital Foundation established
1993 Joint Township Foundation holds first golf outing
1998 Major expansion of Outpatient programs
2002 New Birthing Center
2003 50th anniversary
2004 Grand Lake Regional Cancer Center opens
2005 Major capital campaign for hospital expansion
2005 New Emergency Center
2005 Expanded Outpatient Center
2005 New Cardiac Center
2005 Kevin Harlan becomes President and CEO
2006 Changes Joint Township Memorial Hospital and its affiliates to Grand Lake Health System

Builds system wide awareness
Leads in a number of system wide improvements
Hospice care
Women's Digital Imaging

2007 Joint Township District Memorial Hospital named in the top 1% of all hospitals in U.S.

Highly rated home health and ER services are among the best nationally.

2007 New Urgent Care Center opens
2007 Woman's Imaging Center
2008 Expanded Celina Family Medical Center
2008 New Wapakoneta facility
2008 Physicians' affiliates in Minster
2008 6th Floor Renovation
2009 2nd Floor Renovation
2010 New Services:

Grand Lake Vein Care Center
Grand Lake Wound Care Center
Grand Lake Sleep Center

2011 Completed renovation of 3rd floor for new Laboratory
2012 The Health System receives 16 HealthGrades quality recognitions
2012 5th Floor Renovation
2012 Dedicated Inpatient Comfort Suite created for hospice and other patients
2013 Healthgrades® recognized Joint Township District Memorial Hospital for exceptional quality in 16 different areas of care
2013 $4 million improvement of Ambulatory Surgery Unit
2013 TeamHealth receives physician contract for JTDMH Emergency Department and Urgent Care Center
2013 Opening of Grand Lake OB/GYN office in Celina
2013 Health Care's Most Wired 2013 – Most Improved
2013-2014 Expansion and renovation of Miami & Erie Family Practice & Pediatrics in Minster
2014 Opening of New Day Pain Management Center in St. Marys
2014 Opening of Grand Lake Neurological Center in St. Marys
2014 Opening of Vanan ENT & Sinus Center in Celina
2014 Robert A. Warriner III, M.D. Center of Excellence Award given to Grand Lake Wound Care Center
2014 Health Care's Most Wired 2014 – Most Improved
2014 New Vision Medical Laboratory Recertification by HFAP
2014 - 2017 5 Grand Lake Practices received Level 2 Patient Center Medical Home certified
2014 - 2019 Outpatient Diabetes Self-Management Education Certificate of Recognition for meeting national standards, from American Diabetes Association
2015 Wound Care Center received Robert A Warriner III, MD Center of Excellence Award
2015 Health Care's Most Wired 2015 – Most Improved
2015 Emergency Department received DNV Acute Stroke Ready Certification
2015 Birthing Center received Ohio First Steps for Healthy Babies, One Star Award
2015 Birthing Center received Anthem Blue Distinction Center for Maternity Care
2015 Completed 24 new ambulatory surgery rooms
2015 Completed 2 new endoscopy rooms
2015 Currently upgrading the OR rooms and surrounding adjacent areas. We have invested significantly in the building during the past ten years including completing a new Women's Center, Laboratory, Wound Care Center with two hyperbaric chambers, a Neurology Center, Sleep Center and the Miami & Erie Medical Center in Minster.
As we look back over our past milestones and look ahead to future ones, we invite you to explore the entire website and discover why Grand Lake Health System is the region's preferred choice in healthcare.