Hospital Comfort Suite St Marys, OH
Grand Lake Hospice offers a unique Hospice Comfort Suite located on the fifth floor of Joint Township District Memorial Hospital. This suite was developed using the latest hospice care best practices and recommendations from respected hospice organizations. Our Hospice Comfort Suite offers a homelike setting for hospice patients who require around the clock nursing care for as little as a couple of hours to several days to achieve symptom management.
The Comfort Suite is intended to complement our hospice care services and it allows patients and their families to get the extra attention they need when they need it most. Complete with a family room and patient bedroom (each with its own full bathroom), a kitchenette, and all kinds of premium amenities—such as a full technology package that includes an iPod and iPad —the Comfort Suite is a welcoming oasis where patients and the people they care about can be together as they wish to be. And even though it is located within a hospital setting, once you enter the Comfort Suite, you'd never know it. It is quiet, relaxing, and very private. It provides the best of both worlds—all the comforts of home along with all the quality care and support of Grand Lake Hospice and the nurses and staff of JTDMH.
FEATURES
Grand Lake Hospice Comfort Suite at JTDMH
Gives Grand Lake Hospice patients and their families intensive care in times of increased need
Separate patient bedroom and family room

Family room has large, comfortable sofa bed and sleep-friendly recliners

Two full baths
Kitchenette with refrigerator, microwave, coffee maker, and real dishes
Warm, homelike décor
TV, DVD player (with family-friendly movies), and free music downloads
Kindle e-reader with a large library of selections (printed books also available)
Stargazer machine projects soothing images of stars and clouds that float across the ceiling
Full technology package including an iPod and iPad
Music Therapy
Photos :
Patient Bedroom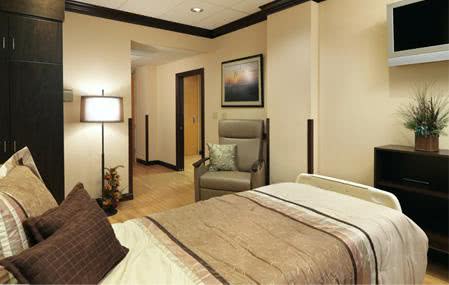 Efficiency Apartment