Even a One-Minute Run Might Help a Woman's Bones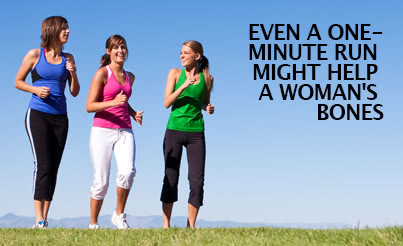 By Mary Elizabeth Dallas
Just a minute or two of running every day could strengthen your bones, new research suggests.
British scientists found that women who engage in "brief bursts" of any high-intensity, weight-bearing physical activity had 4 percent better bone health than their less active peers.
"We don't yet know whether it's better to accumulate this small amount of exercise in bits throughout each day or all at once, and also whether a slightly longer bout of exercise on one or two days per week is just as good as one to two minutes a day," said study author Victoria Stiles. She's a senior lecturer in Sport and Health Sciences at the University of Exeter.
"But there's a clear link between this kind of high-intensity, weight-bearing exercise and better bone health in women," Stiles said in a university news release.