Lumbar Puncture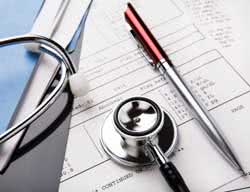 A lumbar puncture is an exam done to evaluate the spinal fluid, which is located within the spinal column.
Lumbar Puncture Procedure:
You will be lying on your left side or on your stomach for this exam. The Radiologist (x-ray doctor) will insert a needle into the spinal canal under fluoroscopy (x-rays). Spinal fluid will be removed and sent to the lab for testing. The needle will be removed when the exam is finished. You will be sent to an observation area for a few hours of monitoring. You will be given discharge instructions prior to leaving.
Procedure time: 30-60 minutes
Patient Prep Preparation for a Lumbar Puncture:
Do not eat or drink 2 hours prior to your test.
You will need someone to drive you home.
An IV may be started in your hand or arm, only if the Radiologist requests it.
You can take your normal medications. No blood thinners 3-5 days prior - Coumadin, Plavix, Aspirin.
For Your Information:
Inform Medical Imaging if there is any chance of pregnancy.
After registration you will go to an observation area prior to your exam. You will be asked to change into a gown and an assessment will be done prior to going to the Medical Imaging Department. You will be taken back to this area for follow-up assessment.
Relax and follow instructions given to you by the Medical Imaging staff.
Inform Medical Imaging if you are on any blood thinners.
If you have any questions about your preparation, please call 419-394-3335 ext. 3350 for assistance.
To better assist us with your treatment, we are asking that you bring a list of your current medications and doses. This information is very valuable and will help us to provide you with the best, most timely service possible.