What you need to know about Ebola
In light of the Ebola outbreak in Central and Western Africa, and the recently confirmed cases in the U.S., Joint Township District Memorial Hospital would like to take this opportunity to share CDC information about the Ebola virus with the public.
Joint Township Hospital is utilizing the Detailed Hospital Checklist for Ebola Preparedness to prepare the organization to respond to an Ebola patient. Each of the items on the checklist has been touched upon, with some having already been completed. Screening patients with symptoms that present to the hospital or physician practice is an important first step in the containment and treatment process, and staff in these areas have been made aware of how to properly conduct that screening. CDC recommended precautionary signage has been posted in the entrance at all hospital and physician practice offices.
In addition:
JTDMH is following CDC guidelines for staff protection.
Plans include measures to protect other patients and visitors from exposure.
JTDMH EMS is prepared to respond to a patient with suspected Ebola.
Collaboration with local EMS, Fire and Law Enforcement agencies is ongoing to ensure safe treatment and transport of a suspected case.
Below is some general information about Ebola Virus Disease (EVD), provided by the CDC.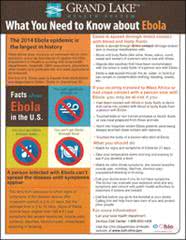 A PERSON INFECTED WITH EBOLA CAN'T SPREAD THE DISEASE UNTIL SYMPTOMS APPEAR
The time from exposure to when signs or symptoms of the disease appear (the incubation period) is 2 to 21 days, but the average time is 8 to 10 days. Signs of Ebola include fever (higher than 101.5 degrees F) and symptoms like severe headache, muscle pain, vomiting, diarrhea, stomach pain, or unexplained bleeding or bruising.
EBOLA IS SPREAD THROUGH DIRECT CONTACT WITH BLOOD AND BODY FLUIDS
Ebola is spread through direct contact (through broken skin or through your eyes, nose, or mouth) with:
Blood and body fluids (like urine, feces, saliva, vomit, sweat, and semen) of a person who is sick with Ebola.
Objects (like needles) that have been contaminated with the blood or body fluids of a person sick with Ebola.
PROTECT YOURSELF AGAINST EBOLA
There is no FDA-approved vaccine available for Ebola. Experimental vaccines
and treatments for Ebola are under development, but they have not yet been fully tested for safety and effectiveness.
To protect yourself from Ebola:
DO wash your hands often with soap and water or use an alcohol-based hand sanitizer.
Do NOT touch the blood or body fluids (like urine, feces, saliva, vomit, sweat, and semen) of people who are sick.
Do NOT handle items that may have come in contact with a sick person's blood or body fluids,
like clothes, bedding, needles, or medical equipment.
Do NOT touch the body of someone who has died of Ebola.
RISK OF EXPOSURE
The 2014 Ebola outbreaks have occurred in the following countries: Liberia, Nigeria, Sierra Leonne, Guinea and, most recently, the United States. The CDC and U.S. hospitals, including Joint Township District Memorial Hospital, are enhancing collective preparedness and response efforts to detect possible Ebola cases, protect employees, and respond appropriately.
Release Date: October 21 2014