Study Finds 4 in 10 Sunscreens Fall Short on SPF
By Kathleen Doheny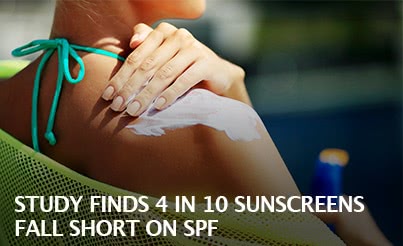 More than 40% of sunscreens tested by Consumer Reports experts don't live up to their SPF claims, according to the organization's annual report on the products.
Twenty-eight of the sunscreens did not deliver the promised SPF level, says Trisha Calvo, CR's deputy editor of health and food. And two products claiming an SPF of 50 actually weighed in with an SPF of 8, according to test results.
This year's report includes ratings of lotions, sprays, sticks, and facial
sunscreens, and reviews both adult and children's formulas. It also
includes commonly asked questions about sunscreens, such as what SPF (sun
protection factor) and ''broad spectrum'' are. It will be published in the
July issue of Consumer Reports magazine.
Seventeen sunscreens earned a spot on the organization's "recommended" list.