Expert Panel: Three Things May Save Your Brain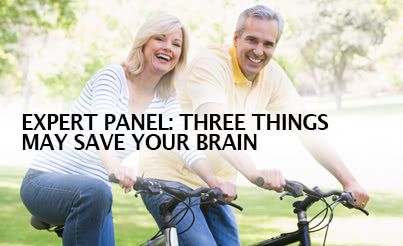 By Kathleen Doheny
But the conclusion comes with a strong caution that the evidence is modest and doesn't prove the strategies can prevent the brain disease. Still, the report, released today by the National Academies of Sciences, Engineering and Medicine offers hope that lifestyle changes could help prevent decline in thinking and memory.
"I think the bottom line is, there are some areas of hope and encouragement," says panel member Dan Blazer, MD, PhD, of Duke University School of Medicine in Durham, NC.
To create the 149-page report, titled "Preventing Cognitive Decline and Dementia: A Way Forward," the expert panel evaluated evidence from hundreds of studies called randomized clinical trials, considered the gold standard for scientific research. They also looked at evidence from other types of research.
Preserving memory and thinking skills is especially crucial. More than 5 million Americans now have Alzheimer's disease, the most common form of dementia, according to the Alzheimer's Association. By 2050, the numbers could reach 16 million. Treatments are elusive, with no new drugs approved for more than a decade. Those drugs that are approved may help slow the disease but are not a cure.